Plan the perfect Christmas Party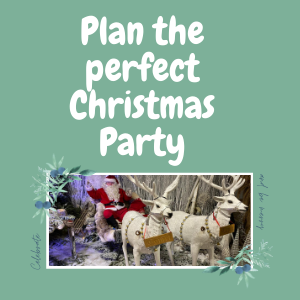 Want an unforgettable Christmas Party this year? It's time to celebrate with friends and family, bringing people together and having fun.
Often the only deterrent is not knowing where to start! There always seems to be so many preparations that need to be done, and before long it can become very, very stressful.
Never fear – help is at hand. Take a look at our suggestions for an easy to organise unforgettable Christmas Party.
Christmas Party planning made simple
Decide on your date. An intimate family party on Christmas Eve may be the perfect solution, or it could be a big party earlier in the month so as to avoid any timetable clashes.
Where is it going to be held – It could be at home, in a restaurant or in a rented location. Much depends on how many people you want to invite. Renting a hall or venue is essential if you are going to have a large party.
What's your Christmas theme – An elegant party in gold and silver, children's festive chaos in reds, greens and gold complete with elves and lots of games? Once you have chosen your theme and colours, it is a simple matter to sort out decorations, invitations and food.
Organise your Invitation list – Work out who you are inviting and identify some party invitations that match your theme. Make sure that all relevant information is included on the invitation. Is there a dress code? What time does the party start? Where do people park?
Decide on your budget – and stick to it! Work out how much you can pay for food, and sort out a menu and decorations. Find out if there are any special dietary requirements – some guests may be vegan or experience dietary intolerances such as allergies to nuts. Choose caterers, or if you are doing the food yourself, keep it simple and prepare as much as possible in advance so that you too can enjoy the party with your guests.
Advance preparation – As soon as you have a date and venue settled, begin seeking out decorations, menus, party favours and working out any Christmas games, especially if children will present.
Make it memorable
Make your party stand out by theming it. Christmas offers so many varied themes that will really attract attention. How about We three Kings using an elegant gold, white and black palette, a Winter Wonderland or a bright and breezy Peppermint Cane party? Festive and cheerful, the Nutcracker ballet is an essential ingredient of Christmas for many people, so why not have a Nutcracker inspired party complete with nutcrackers and themed promotional toy soldiers and mice?
And of course don't forget Santa. Book early for a Santa visit, he is always in demand even though we have lots of Santa's available nationwide.