Hire a Santa for your Cardiff Event
Christmas markets, Santa's grotto, private Christmas parties and the must-go-to corporate festive events are all to be found in and around Cardiff. And who must be on the invite list? Santa!
Clearly, the real Father Christmas is incredibly busy at this time of year packing his sleigh and all the other thousands of things he must do before his annual flight around the globe.
And this means that as much as he would like, he cannot attend your event.
There is an alternative – and that is to hire a Santa, a professional performer who has achieved special recognition and approval to mimic the Man in Red himself. But beware, not all hire a Santa's in Cardiff are the of the same quality.
Hiring a professional Father Christmas in Cardiff
What to look for:-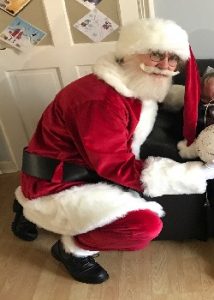 * The outfit & the appearance
We have a database of reliable, professional and experienced Santa's for hire in Cardiff and they must all meet our strict guidelines on dressing for an appearance. We vet everything, from the first to lash white eyelash to the red suit.
* The interaction
Every client expects their hired Santa to act in a professional and appropriate way, no matter who the festive event attendees are. When you hire a Santa in Cardiff from us, you have peace of mind that Santa is 'safe'. All our Santa's must pass a DBS check. Many of your Santa's for hire are also trained, experienced performers and understand how to create the magic around their appearance as such an important and iconic character.
* Great service and delivery
We pride ourselves on the reputation we have built over the years for providing a quality product backed by amazing service. No two festive events in Cardiff are the same and so your hired Santa will arrive briefed as to what the event is and the extent of their role in it.
Our Santa's can make a huge entrance to an event, they can give out gifts, they can turn the Christmas lights on, they can add a magical touch to a Christmas wedding or they can add an element of fun and surprise at a corporate event.
How to hire a Santa in Cardiff
All you need to do is to contact Santa's team back at base with more details about the festive event in Cardiff and when you need Santa to attend. We also have other festive costumed performers for hire too, such as Mrs Claus, elves, Christmas puddings, reindeers…
Call us on 0844 800 0071 or email the Hire a Santa elves today!