Hire a Santa in Gloucester
Each year, there are many fantastic festive events held in and around Gloucester, from children's Christmas parties to fairs, Santa's grotto as well as events planned at community centres and shopping venues. They all need one ingredient to make the truly magical – Santa Claus.
Have you considered hiring a Santa in Gloucester?
It is possible to rely on the goodwill of someone willing to act as Santa but have you thought of investing in a professional performer who not only looks the part but acts it too?
Everything has to be right – the booming ho-ho-ho, the costume, the confidence of the interaction between Santa and everyone present and above all, they must have an enigmatic presence that charms everyone.
To get all of this, you need to hire a professional Santa in Gloucester. The impact on children and adults alike will be immediate. There is something enthralling about the larger-than-life character that is The Man in Red.
We supply professional Santa's for events across the UK including Gloucester. These are the types of events we have supplied festive performers to in recent years;
• Christmas weddings and festive proposals
• Santa's grottos at Gloucester shopping centres such as Gloucester Quays and Kings Walk
• Christmas parties at schools, colleges, day nurseries, nursing homes and rest home
• Our hire a Santa's have attended community festive events too
• Corporate events including the office party
• PR stunts and advertising campaigns, including photoshoots
• Large public events including Christmas lights switch on and more
• Breakfast and tea with Santa events
• Charity Christmas events including hospice and hospital visits
• And many, many more!
Why hire a Santa?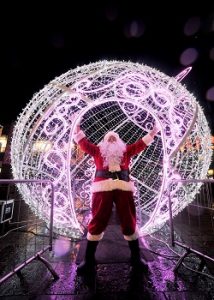 There are many reasons why hiring a professional performer to play the role of Santa, Mother Christmas and elves makes sense…
• Performance – all our Santa's are outgoing, experienced performers who are trained at our Santa School of Excellence. Only the very best get to be professional Santa performers with Hire a Santa.
• Professional – you can rely on our professional hire a Santa's to not only deliver a magnificent and magical performance but also do so with the utmost of professionalism. In England and Wales, all our festive performers, Santa included, are checked via the Disclosure and Barring Service.
• Passionate – all our Santa's and festive performers have one thing in common: a passion for spreading the spirit of Christmas! It's such a magical time, why wouldn't you hire a Santa in Gloucester?
How to add a touch of magic to your Christmas event – contact us today!
Adding a touch of Christmas sparkle to your festive event is as simple as 1,2,3…
1. Call us or use the contact form below to tell us all about your festive event in Gloucester
2. We'll handpick a local Santa for your event
3. Arriving ahead of time and fully briefed as to their role, you will be more than