Hire a Santa for Your Glasgow Festivities
Whether it's a private party or a Christmas celebration at a day nursery, school or nursing home, or a chance to meet the Man in Red himself as a shopping centre, to create an air of magic, excitement and anticipation you need a Santa who not only looks the part but delivers a great performance too.
The only solution that really works is to hire a professional Santa from a leading agency – and Hire a Santa is that agency!
The magic of a professional Santa
We assume that anyone can wear the red suit, stick on a white beard and boom ho-ho-ho but… can they really?
At Hire a Santa we don't think so, which is why we have a stringent selection process for all our Santas.
For everyone, from the youngest child to the big kids amongst us, Santa needs to be many things.
He needs to be friendly but retain an air of mystery.
He needs to be convincing and fill a room with his presence.
The trademark ho-ho-ho call needs to be delivered with a booming bass note that rattles furniture.
He must look the part.
But there are realities too: for your event in Glasgow, the Santa you hire must be 'safe'. Our
England and Wales-based Santas are subject to Disclosure and Barring Service checks, with our Scottish Santas checked through Disclosure Scotland.
Our Santas in Glasgow are not only experienced but trained at our Santa School too. Skilled as a performer, experienced and briefed on your project, you won't be disappointed when you hire a Santa in Glasgow from us.
Don't just take our word it – take a look at what others say about our professional Santas for hire.
Events with Santa
At Hire a Santa, we have provided the Man in the Red Suit for all kinds of festive occasions, including;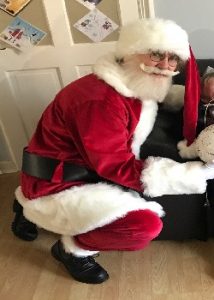 • Christmas and winter weddings
• Shopping centre grottos – perfect for the Princes Square Shopping Centre, for example!
• Parties at schools, colleges, nurseries, care and nursing homes
• Community events
• Corporate events and work parties
• Advertising campaigns
• Breakfast with Santa events
• And many, many more
In fact, our Santas for hire in Glasgow will make any festive event a huge success.
Add more than a touch of Christmas magic by calling Hire a Santa
As you can imagine, we love Christmas. We love the lights and the glitter, the magic spectacle and tingling of the bells – but we also know how important getting the right Santa for the event is.
Simply jot down a few things about your event in Glasgow and give us a call on 0844 800 0071. We also have a gaggle of excited elves waiting to accompany Santa too!