Santa Hire for Weddings, Engagements and Anniversaries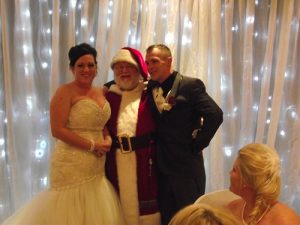 Christmas is considered many to be one of the most magical times of the year. It's a time of charity, kindness, friendships, and family. It's also a time for love. It can be for some the most romantic time of the year. Even in the crisp winter winds and falling vestiges of snow love is in the air. It may not be spring but there is far more blooming than flowers. And is anything more romantic and beautiful than kissing under the mistletoe.
For all these reasons it's not completely bizarre for some couples to enjoy the most important day of their lives during the most magical time of the years. It just isn't Christmas however, unless Santa is there. It's a shame you can't just call him on your special day to preside over your vows. However, he is available for public appearances if you're willing to book.
Have you ever considered making your Christmas wedding or engagement party even more magical?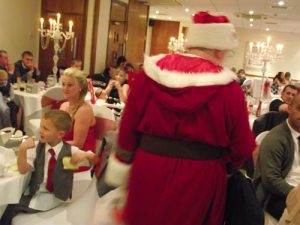 Make your day even more special with a visit from Father Christmas himself! Perhaps who could present gifts to the guests or make a toast to wish the couple a long and happy marriage. His joyful laugh and jolly form may be just what special occasion needs. Why not bring your special day to life by clashing it with Christmas and bringing on old Santa clause to liven up the celebrations and jubilee?
Here's a wild idea, maybe if you're considering a surprise proposal at a public event, you could have Santa deliver the message. Maybe present the ring as a Christmas gift from his magic bag? The possibilities are endless, but if you both love Christmas as much as we do you have to consider sending invitation to the big man himself to see you off into your life of bliss and love.
How much does a Santa appearance cost?
To get a quote for one of our professional Father Christmas performers to attend your special event pop us an email by clicking here.