Hire Father Christmas for your Shops or Department Stores
Hire a Santa has provided hundreds of Father Christmas performers in shopping centres, restaurants, supermarkets and department stores for many years.
It seems that every year the demand gets bigger and the grotto's become grander as retail outlets want to have the best visit Santa opportunity in their area.
Hiring Father Christmas for a department store not only helps the store get ahead of their competition because Santa helps increase footfall into the store but the Santa himself can increase revenue for the store with ticket sales for the opportunity to meet him.
We have been fortunate enough to provide Father Christmas in many department stores including….
• Debenhams
• John Lewis
• Beales
• Selfridges
• Fenwicks
• WJ Daniel & Co
• Harvey Nichols
• House of Fraser
• British Home Stores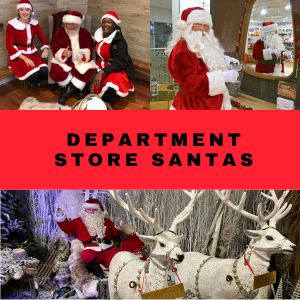 How we provide so many Father Christmas performers for department stores and other retail outlets
Our first job is to really understand what our client wants. The instructions from our client usually fit around the following brief….
• Want to hire an authentic Santa
• Santa must be full of energy (as the days can be very long)
• Father Christmas to remain in character at all times
• Santa's costume must be high quality
• Father Christmas must have a real beard or a very high quality fake beard
To ensure we meet these requirements we have spent a lot of time over the past 10 years recruiting fantastic Father Christmas performers. When we approve a Santa there are certain things we are looking for…
An age appropriate Santa
Previous experience performing as Father Christmas
Previous entertaining or acting experience
DBS Checked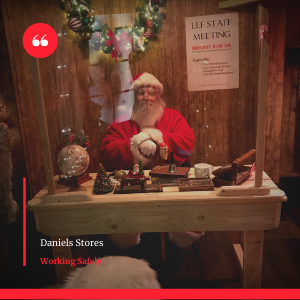 Once we have the brief from the client we then match the Santa performer to that particular client making sure it's a Santa that is local to that area.
Building a database of high quality Santa's takes time. We provided our fist Father Christmas in 2010 and every year since then the demand has increased. In December 2019 we had more than 300 Father Christmas characters working across the UK.
As the demand increases so does the work of our recruitment team who start the process of finding more high quality Santa's in January every year so we have more than enough Santa's to fulfil our clients requirements that year.
Over the years we have built a beautiful relationship with our Santa performers and we love every second working with them delivering an amazing experience for our clients and the families that visit the stores.
Hire Father Christmas for your department store
We like to keep the process as simple as we can for all our clients. You tell us what you need and what experience you want to deliver to your customers. We will make sure we provide the best local Santa that can carry out your idea's.
To discuss hiring a Santa from us this year please give us a call on 0844 800 0071 or send us an email at info@hireasanta.co.uk