Enjoy a memorable visit from Santa Claus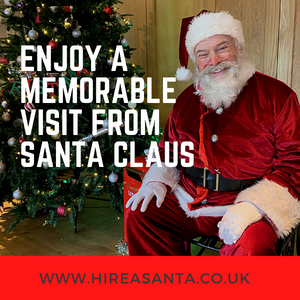 As the days grow shorter, and temperatures begin to fall, everyone begins to think of Christmas. Excited children prepare lists for Santa Claus, hoping for all kinds of wonderful presents.
And of course, there is that visit to Santa Claus to tell him personally what they want. Why not make it extra special by inviting him into your home to give some uninterrupted time with your child? You can do this on an individual basis, or as a surprise visitor to a party.
Hiring a Santa Claus this Christmas will result in a visit they will never forget. Santa arrives in style, making a grand entrance and chatting to the children about their Christmas plans.
Make the most of his visit by making careful preparations!
Take the opportunity to have a chat with Santa before his arrival. Let him know the child's name, age and interests. If it is a party, mention any special reasons for it to be held perhaps one of the children is also having a birthday over Christmas.
Ensure that sensitive subjects are avoided. Tell him of any deaths in the family, marital breakups or even the loss of a beloved pet. This will ensure Santa doesn't bring up such topics accidentally, and ensures that the child has a really lovely experience.
Organise access. Make sure there is a parking space available! Have someone ready to open the door for him.
Elves – it can be worth considering adding in a few elves to help Santa especially if it is a children's party. Having some elves to hand out presents, provide some extra activities while other children are chatting to Santa can be very helpful. You can even book a visit from Mrs Claus as well!
Make this Christmas a memorable one. Bring Santa Claus into your home. It will be a visit that no child will ever forget.