Father Christmas for Twycross Zoo in Atherstone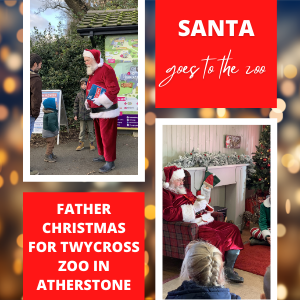 We have hired Santa to Twycross zoo for the past couple of years and its always a treat. What a wonderful setting for families to see and spend a bit of time with Father Christmas.
Santa David is the Santa of choice for Twycross zoo as he is very experienced and really looks the part. Not to mention his unwavering enthusiasm when he meets all the children.
Santa not only spends time with the families but can also be found feeding penguins and talking to all the wonderful animals. Great photo opportunities for the children and they absolutely love seeing Santa with the animals.
December 2020 was a challenge with Covid-19 gripping the country but Twycross and Santa managed to pull it off giving the children the opportunity to still meet him under COVID-19 safe conditions.
How we arranged the best Father Christmas for Twycross Zoo
Hiring the best Santa is not just about the costume, the beard and the overall look after the Santa performer. Its also about the Santa's ability to remain in character at all times on what can be very long days. Its about that ability to engage with the children at their level so every single child has a personal magical experience with Father Christmas. Making sure their visit is a special memory for them in years to come.
When it's cold and you are tired, delivering all that takes a very special Santa performer.
Understanding exactly what Twycross want from the Santa performer is paramount.
Twycross provided us with a full schedule of dates (10 dates in December) and hours each day (8 hours, 9am to 5pm) along with what Santa would actually be doing…
• Reading a Christmas story to the different groups of children throughout the day
• Following a script so each session was consistent
• Q&A with the children in each group
• Meeting families whilst they have their Breakfast in Mrs Claus Kitchen
• Photo opportunities with each group and family
• Feed the penguins
• Hand out presents at the end of the day
The key when selecting the best performers is ensuring they can deliver every aspect of the clients brief. If they are not as confident in just one of the areas then the event will not be as brilliant as it should. We worked with Twycross to ensure they were happy with everything from the costume to the way that Santa speaks. We discussed Santa's past experience so they were confident in Santa David's ability to deliver every minute of every day that he was with them.
Once everything is agreed then we work with Santa so he is aware of everything that is expected of him from the moment he arrives at Twycross Zoo.
Was the festive event a success and were Twycross Zoo happy?
Everything was a huge success and the feedback from the families that visited Twycross Zoo for their Christmas spectacular was overwhelmingly positive. People were very grateful that Twycross Zoo had managed to deliver a fantastic event with the backdrop of covid-19. For a while the families were able to forget what was going on in the world and simply bask in the wonder of meeting Father Christmas.
As for Santa David? He was simply brilliant and received lots of wonderful feedback which makes all the hard work worthwhile.
We look forward to working with Twycross Zoo again, its always a wonderful event and we love doing our bit to make the event a huge success.