Santa Overview of 2020 – Working in Covid!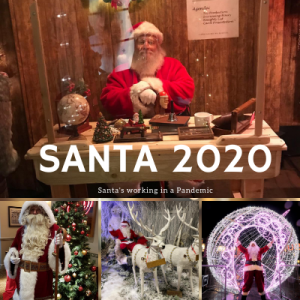 Our Santa's well and truly pulled out all the stops this year – even in a pandemic, they managed to bring some much needed Christmas cheer to many, in a variety of different ways.
As we were all in different Tiers – some parts of the country were still able to meet Santa (albeit socially distanced) in garden centres, restaurants, tea rooms and other venues.
"It is going brilliantly. The children are absolutely loving the Santa's you can hear their laughter all the way at the back of the shop in the kitchen!" Kelly, Tea on the Green
"I just wanted to pass on some feedback about Santa at the weekend. We've had some incredible comments from guests – everyone thought he was the real deal. Please pass on our thanks to them both, and we're looking forward to this weekend." Hickory's restaurants
We even managed some private Santa visits in homes and street visits for a quick catch up in the back garden!
"I just wanted to thank you got helping us arrange the most prefect visit from Santa. He was amazing. Absolutely perfect in every way." Gemma, Santa home visit
"I just wanted to send a message to thank Santa Michael from the bottom of our hearts, he was absolutely incredible and so truly wonderful with the children! The best thing we have ever done.
He really has made Christmas come to life and we thank him more than words can describe." Monica, Santa home visit
And Santa appeared on a train trip over the course of a week, which went down very well indeed!
"We had a lovely day out today. Have child with special needs and the staff were really helpful. All very Covid safe and the compartment was great. We loved the snack boxes and Santa was amazing. Even got out to stand by her buggy for a picture. Made her day." Emma, Train ride Santa
"Our second year on the train, and actually thought it was better. So glad it could go ahead" Matthew, Santa Train ride
In other parts, it was a little trickier, and what was going to be a meet and greet often ended up as a Zoom call – however, these proved just as magical if you check out some of the quotes we had, below.
"Could you please pass on a massive thank you to Santa that was part of our Zoom call tonight, the kids absolutely loved it!" Tony, Zoom
"My daughter has just had a zoom call with Father Christmas and it was so magical that I CRIED. "
And Zoom Santa in schools was also a big success!
"Santa Joe was just amazing. We had expectations but could not imagine how these would be surpassed. I was monitoring the whole event and Joe was just fabulous from start to finish. He was great at helping the parents with technical issues (press the mic icon) and non-believers, the feedback we have had from parents was uplifting." Woodland PTA