All aboard the Santa Express!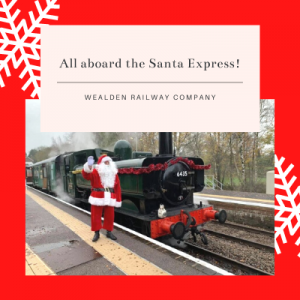 Over the years we have the opportunity to work with some very interesting clients and working with Wealden Railway company was no different. They had approached us to source a Santa for their Santa Express train journey. Santa would be traveling on the train during its journey from station to station, meeting and greeting families who have bought tickets. Santa would hop off at each station for photo opportunities, where other performers were based and members of the public.
Wealden Railway company was founded in early 1990 when parts of local train lines were closed. The company was set up as a preservation society, to maintain the tracks and run trains on it daily, some of the trains still run to date.
How did we find the perfect Santa who suited the client's brief?
When Wealden Railway booked with us, they provided an in-depth brief, this contained lots of information that needed to be digested by our bookings team. We do this to highlight any key details that help us source the best Santa for the event.
One of the key points that we recognised to be important to the success of the event would be selecting a Santa who was in good health and physically fit enough to perform throughout. The reason we believed it was important part to our selection process was that Santa would be traveling through train carriages between multiple stops whilst carrying presents and performing as Father Christmas.
Once we opened our castings, we shortlisted applicants and provided the client a selection of the most suitable Santa's. The client then had the option to choose their Santa with our recommendations. In this case we booked Santa David B, who had previous experience working with similar clients, such as Eurotunnel Le Shuttle and South Downs Light Railway.
Lots of Happy Customers because Santa went the extra mile!
As an important part of our service, our team always reach out the client to report back on how well the event went. This is welcomed so that we can always improve on our services, in this case the client provided overwhelming feedback, as Santa went above and beyond amongst challenging circumstances (due to the COVID pandemic).