Is virtual Santa the new grotto experience?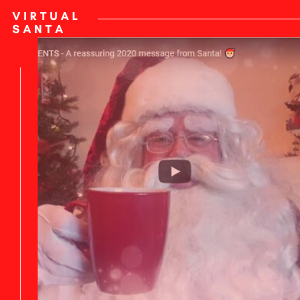 The year of 2020 was unprecedented due to the global pandemic that almost stopped Christmas. A great solution and alternative option for many of our clients was to host an online Virtual Santa Experience. As an example, we worked with Brighton & Hove Buses and Chestnut Tree to put on a Christmas show for their virtual family guests.
Chestnut Tree cares for young people and children with life-shortening conditions throughout Brighton & Hove. The local hospice provides the opportunity for families to say goodbye using different vocations and performances, allowing parents to be parents and not carers.
How did Santa put on a Christmas show to remember?
The client wanted to book a virtual Santa to join in on their meeting, which was being hosted by the head nurse. The children and families would be logged into the Zoom meeting where Santa would log into and surprise them.
We have a selection of Santa's who are capable for performing virtual Santa. To be able to perform as a virtual Santa, they require the correct equipment to ensure that the experience the client receives is the best it can be. This includes equipment such as top of the range video recording, authentic backdrops, and high-quality costumes.
Santa was personally briefed by our bookings team which involved a flexible script, meeting plan and additional information. The additional information included special details in relation the children and families, making the experience more personable and extra special.
It was as good as seeing Santa in person!
The client was over the moon with how well the children responded to the virtual Santa. The children were given a chance to ask questions to Santa, which the client commented how well Santa had to think on his feet and respond to the children. They added the virtual experience was as good as visiting Santa at a grotto.