What makes a special Father Christmas?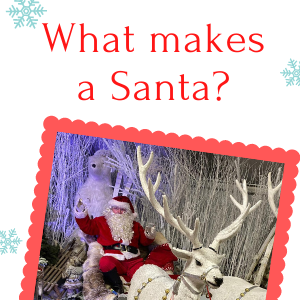 Christmas is one of the most magical times of the year and the star of the show is Santa himself. When you can hear the bells ringing and the snow starts falling, we are already well underway with booking and sourcing Santa's.
Though we do not book just anyone as Father Christmas – we have a casting and selection process before they are chosen to represent us. So, what does it take to be a professional Santa?
Santa being a people person is a must…
As it is the annual event bringing friends and family together, it is important that our Santa's understand people. If they are young or old or from different backgrounds, we ensure they can relate with the people he is asked to perform with to help deliver the festive spirit.
Most of our Santa's come from an acting background, so having the show light on them is something they are experienced in handling, thinking on their feet, and keeping in character. They often go above and beyond, rehearsing any special details such as names, presents and anything else the client's wish for them to mention.
Can it be the real Santa?
Believe it or not, Santa used to be portrayed as wearing a green costume, contrary to the red colour he is synonymous with wearing in modern times. Though it is not common for our Santa's to be asked to wear a green costume, we still must ensure that all our Santa's look the part!
We do not ask our Santa's to put on seasonal weight to create Santa's mince pie tummy, but there are other techniques to creating a realistic look. When it comes to Santa's beard, we only provide premium beards that look authentic and, in some cases, better than real beards. Meanwhile, all the costumes we provide are handpicked by our costume department for each performer, ensuring they carried well and are up to our high expectations.
Santa is always on time…
A big part of Christmas is trying to fit so much fun and activities into the small festive window. All our Santa's are booked up fast on multiple events, so it is important that they have great organisation and time keeping skills. The months of November and December can come thick and fast – so we always have in house systems in place to ensure that Santa and his Sleigh arrives in time to hand out presents.