Christmas 2021 to be the biggest festive period EVER!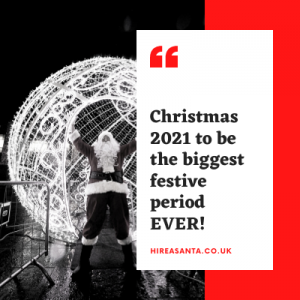 2020 was, to say the least, a nightmare.
When the country first went to lockdown in March 20 no one suspected that it would lead through to Christmas and beyond.
Everyone in the country had a challenging Christmas in 2020 and so many missed out on their usual festive experiences.
Visits in the home from Christmas performers could not happen, many Santa grottos were forced to close and it all led to a rather disappointing time.
However, there is huge hope for 2021 as things ease back to normal and people in the UK are looking to celebrate Christmas 2021 like never before.
The cloud of fear and expectation that plans may need to being cancelled is certainly lifting and people are already planning earlier than usual to ensure this Christmas is one to remember.
This begs the question, when is too early to start planning and booking Father Christmas for 2021? The simple answer is that it's never too early.
A 'normal' year will see Christmas performers being fully booked by the end of September. However, with most businesses banking on the final quarter of 2021 being fantastically busy there has been a huge surge in businesses and household booking Christmas performers early than usual so they do not miss out.
Why it's important to plan ahead and book Father Christmas?
1 – Increase profits in the toughest trading year
In the UK, retailers have had to deal with closures in 2020 that have not been seen since war times.
In 2021, with everything opening up, customers want to spend, and this is no different during the festive period.
2 – Engaging Christmas marketing plan
Getting your marketing ready for launch early is so important.
This gives you time to build momentum and time to focus on increasing sales and profit in the run-up Christmas. From using posting schedules online for social media to designing and printing flyers and other offline material, a detailed marketing strategy is essential.
3 – Hire Father Christmas for your grotto
Hiring a Father Christmas performer attracts shoppers and linked with a well thought out Christmas marketing strategy, you can set the wheels in motion for branding, as well as choosing the products that you know your customers will love.
Grottos not only attract more customers to your store, if managed correctly they are a fantastic revenue for you Q4 figures. The opportune time to book your professional Santa and other festive performers is now. Many clients will book their performers in January to secure their performer. There are also many Santa's available on a first come first served basis. Our professional Father
Christmas performers can be hired for events across the UK, and are well-versed in making the very best of Christmas in-store promotions and events.
Getting in touch to hire a professional Christmas character performers…
We offer an all-inclusive package so you know everything is covered with experienced performers across the UK. Our team work very hard to make sure you have the best Father Christmas available in your area. After all, the success of your performer will dictate the success of your event.
Want to learn more about hiring Christmas performers? Pop us an email or feel free to give us a call on 0844 800 0071, we look forward to speaking with you