Our top 3 favourite Christmas PR stunts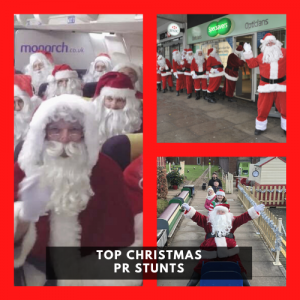 It is the time of the year to relax & be jolly. Unless of course you supply Santa's, then it is the season to be busy! Whilst we supply festive staff largely to department stores, garden centres & family gatherings. We do sometimes get involved with PR companies and campaigns and certainly enjoy watching them come to life.
So put your feet up, enjoy your snowball & mince pies whilst enjoying some of our favourite PR stunts we've seen over the past few years.
WestJet – Christmas Miracle
In our opinion, the Canadian airline WestJet, won Christmas back in 2013 with its festive miracle stunt.
The airline gave passengers on one special flight the chance to talk to Santa Claus (dressed in blue). After he scanned their boarding pass, passengers told Santa what they wanted for Christmas then moved on, most likely thinking little more of it.
Little did they know, the magical Elves at WestJet sent its team out shopping while the flight was in the air, bought the gifts and surprised the passengers at the baggage claims with the wrapped presents. Gifts included TV's, tablets, games consoles etc. The man who asked for new underwear might have regretted that choice.
This video received a whopping 49 million views on YouTube!
Would you like glitter in your gravy?
Travelling back to 2017, the restaurant chain Hungry Horse were looking to get attention for its Christmas menu.
The simple (yet very effective) change to promote their range was to offer 'glitter gravy' giving the guests the option to add it to their meal.
Such was the success of the campaign it went on to feature on 12 national news sites, with 506,000 people engaging with the earned social coverage, 207,000 people sharing the story on their own social feeds and a staggering 45 million people watching our video through the media coverage alone.
Iceland – Rang-Tan
Quite possibly the biggest UK Christmas campaign was the Iceland that grabbed us in our heart strings.
You may recall that the retailer tweeted about its problems with airing the ad on TV – which focuses on the devastating impact of palm oil use in foods and its direct threat to orangutan habitats.
The advert certainly brought the problem into consumers' minds and went on to record more than 30 million views across social media, thanks to the support of celebrity endorsement.
This campaign was a reminder that companies can use their advertising budgets to both raise awareness of big issues and draw the media coverage that they need.