Father Christmas performers for airline PR activities
Hire a Santa work with a lot of PR agencies around the country helping them with many different PR activities.
Around November is when we have requests for Father Christmas to appear in promotional video's ready for the footage to be launched and promoted in the run up to Christmas.
There are so many promotional activities we are asked to provide Santa for but the PR required for airlines is always great fun and the Santa performers love doing them.
Over the years we have worked on many promotional campaigns with PR agencies on behalf of their clients. Of the airline promotions there are a couple that stand out for us.
Monarch airlines – 30 Santa's at Luton airport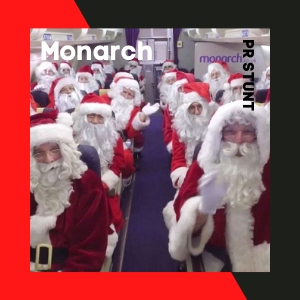 Working with a PR agency our brief was to provide them with 30 Father Christmas performers for a PR stunt on behalf of Monarch airlines.
Monarch wanted to Search for 10 of the hardest working Santa's and reward them with a sunny start to their annual leave by jetting them off to Spain and Portugal on a special thank you trip on behalf of Birmingham city.
The shoot showed the Santa's piling onto an aircraft ready to set off on the trip.
The footage was brilliant and was picked up by the press which was plastered all over the place.
Have a look at 30 Father Christmas jetting of their holiday thanks to Monarch airlines
THE VIDEO: https://www.birminghammail.co.uk/whats-on/shopping/monarch-airlines-offering-free-upgrades-12740321
Easy Jet Christmas promotional photo shoot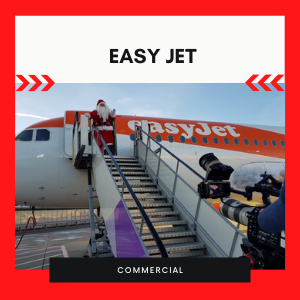 Again, working with a PR agency on behalf of Easy Jet, they wanted a traditional looking Father Christmas for a seasonal Christmas shoot which was to be shown across all social media channels.
The purpose of the photoshoot was to highlight the airlines security measures over the Christmas period. It was done in a fun way to demonstrate that even Father Christmas had to go through the necessary airport security checks.
The photos were amazing and received a lot of interaction across the social media platforms
Hiring Father Christmas for a PR stunt
We welcome all enquiries from PR and media, they are always great fun with a comical edge to them. If you have PR stunt idea for Father Christmas then get in touch, we want to hear your ideas and how we can help. We have more than 200 Father Christmas performers across the UK so can certainly provide you with what you need.
Call Hire a Santa on 0844 800 0071 or pop us an email to info@hireasanta.co.uk