A very special street visit from Santa…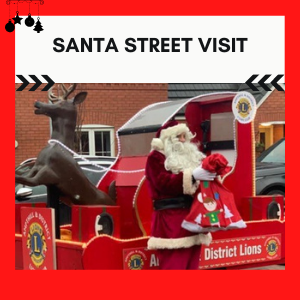 Every year it is very rewarding receiving such positive feedback from our clients, where our Santa's have made Christmas magical for them, though this year we all faced many challenges due to the global pandemic. Therefore, Santa Alan went above and beyond in making Christmas extra special for our client Lesley in Cranfield.
A different Christmas in 2020
As the pandemic and government restrictions changed the way we approached Christmas this year, our Santa's also had to compromise and come up with inventive ways to share the festive spirit.
The 2020 season we had a dramatic increase in Zoom and Street Visit's – one big reason being they were socially distanced and kept everyone involved safe.
Lesley had booked a Street visit with us for her and her neighbours, where families and children would be at their doorsteps around the square. Santa was asked to walk around the square, greeting each family, asking them if they had been good throughout the year. Santa also has a pre-prepared list of the children's names and gifts to be left outside the doors prior to the event.
As Santa arrived, Lesley and her neighbours were surprised for the final piece to their magical experience, Alan had organised a Santa sleigh to arrive with him. When Alan is not working with us over Christmas, he also volunteers for the Rugby Rokeby Lions, a local club and community who do great charitable work. Alan had pulled some strings with the club and managed to take the sleigh with him on his visit.
A Christmas to remember
The client gave us some fantastic feedback, saying that Santa gave them experience far better than what they could have wished for, one that will be remembered not only because of the pandemic, though that Santa even made the time to visit their families and bring his Christmas sleigh with him. This event will be one here at Hire-A-Santa we will fondly look back on to make us smile even through tough times.