How you can use a professional Santa to boost your marketing!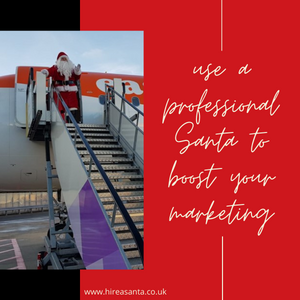 It's never too early to start planning your Christmas campaigns. Santa always needs some help. For marketeers it presents a key opportunity to make the most of present giving opportunities. On average, Christmas provides around 20-30% of annual retail sales. Obtaining a significant chunk of those sales is important for any company, which means marketeers need good promotional strategies to make sure products are clearly visible to consumers.
Simply relying on an online website to show off your wares is not enough. Shoppers need more than an illustration to persuade them to buy your product as opposed to your competitors.
Attracting attention is vital and this is where lively, entertaining promotional activity can really make a difference. Whether online or in a store, Santa is the perfect helper
Take a look at our top 5 promotional ideas to see how Santa can help you
1. Use one of our Santa's to demonstrate products online. Who can resist Santa talking about toys and showing how they work?
2. Use our social media influencers to review your products. Send them a product or two that you would love Santa to have in his sack this Christmas. Ask them to try them out, take some pix and place a review on their social media. We have an extensive network of reviewers, at rates as little as £97 per post. Some focus on specific areas, while others have over 30,000+ followers.
3. How about getting one of our Santa's to test out your products? His reactions to a product are definitely going matter, since he is Santa! If you ask him nicely, he might even record a video explaining how his elves make it.
4. Reward loyal customers. Check out your customer database and identify who shops with you most of all. Send them emails offering special discounts or encouraging them to recommend a friend.
5. Organise some Pop Up Shops or stands in shopping centres or at Christmas markets. There is no need to worry about staffing – just contact us. We can provide excellent temporary staff who can demonstrate, sell and interact with customers making sure your product stands out.