Why do we leave food and drinks out for Santa and his Reindeer?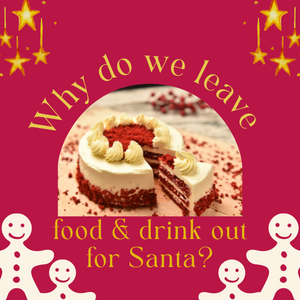 Ever wondered just why mince pies and milk are always left out for Santa on Christmas Eve (and of course a carrot for Rudolph)?
It all started in the Netherlands. December 6 is the Festival of St Nicholas, when Dutch children leave him food & drink in exchange for presents. The original Santa, St Nicholas was a Bishop in the early Christian church who is said to have delivered presents of gold secretly to poor families. Over the centuries, this tradition of providing food & drink spread across borders with St Nicholas morphing to Santa Claus in the late nineteenth century. When the story of Santa and his reindeer became popular, providing a carrot for Rudolph, the well loved red nosed reindeer became essential.
Why do we leave Santa Mince Pies?
Enveloped in tasty pastry, succulent mince pies were the automatic choice for Santa. After all, they were just enough for one or two bites and he had a lot of houses to visit overnight, so there were a lot of mince pies to eat!
Yet surprisingly, the mince pies we eat today are very different to their Medieval ancestors. Sometimes known as Christmas Pie, they contained minced meat, suet, hard boiled eggs, cheese, fruit and spices and were covered in pastry which was not meant to be eaten. Made from flour and water, and several inches thick, the pastry was just a cover to keep the contents from spoiling. By the seventeenth century, diarist Samuel Pepys was writing about having them delivered at Christmas because his wife was too ill to make them. The move to small meat free pies had been completed by Victorian times.
Christmas Pudding
Santa also enjoys his Christmas Pudding. It's not just mincemeat that has changed dramatically over the centuries. Christmas Pudding has also undergone a massive transformation. Frumenty was a staple food served on Christmas Eve during medieval times and was made with wheat boiled in milk, seasoned with cinnamon and could include beef, mutton, raisins, prunes, wine and spices. By the seventeenth century it was being thickened with eggs, breadcrumbs and beer.
It was the Victorians who turned it into the Christmas Pudding we know today. Sometimes known as Plum Pudding, it was made on Stir Up Sunday (the last Sunday before Advent), the meat free ingredients were placed into a bowl and stirred. Every member of the family took part in the stirring, making secret wishes. Small coins, known as sixpence, were often added as a treat. Whoever found a sixpence in their dish was believed to have good fortune during the year to come. Once mixed, the pudding was boiled in a cloth for several hours, and served covered in brandy, which was set alight at the table.
Christmas Puddings have made their way into literature especially Charles Dicken's 'A Christmas Carol 'where it forms the centrepiece of the Cratchit's meal. It's even had a dangerous side – Agatha Christie's Hercule Poirot is warned not to eat the Christmas Pudding.
Christmas drinks
Santa drinks milk on Christmas Eve. After all he does have a lot of driving to do and alcohol would not help. Once home and relaxing at the North Pole, he does have a traditional drink awaiting him in the form of Glogg, a heavily spiced hot drink common in Nordic countries.
It's not just in Nordic countries that Glogg is drunk as variations include Gluhwein and Mulled Wine. Traditionally it was simple red wine heated by a hot poker placed inside the cup. Over the centuries, warming spices like cloves and cinnamon have been added and sometimes a little sugar for sweetness. Nowadays, this is a drink very much associated with German Christmas markets and skiing holidays in the Alps, but versions of mulled wine exist in every country. Even Mrs Beeton added a recipe for mull wine in her nineteenth century 'Book of Household Management' suggesting it should be served with strips of crisp dry toast or biscuits.