Santa goes the extra mile to make a child's last Christmas extra special!
Over the Christmas holidays Hire a Santa were approached by 'Promise Dreams'; a charity that aim to make children's dreams come true and asked if we could make one little boy and his family's Christmas extra special and a day they'd never forget. 'Promise Dreams' is a national charity that was launched in 2001 with the aim of turning dreams into a reality for children who are seriously or terminally ill.
Every child has a dream and whatever it maybe they aim to make it come true – whether it be to go on the holiday of a lifetime and spend time with their siblings following extended hospital stays, the chance to meet their celebrity hero, a specially adapted trike to enable them to join in on family bike rides, or essential equipment and resources for their home. In fact, anything that will make life happier and easier for the family in need. Hire a Santa were up for the making Christmas dreams come true.
Ethan, a young boy who had been through several months of operations, hospital visits and difficult conversations wanted Father Christmas to visit his family home. This was a wish from his parents and brother also, who were unsure on how much longer they had with Ethan. Father Christmas and his Elves could make this an amazing day and fabulous memory for the family. The pressure was on to find the perfect performer. We were all in luck when Derek was interested in the position.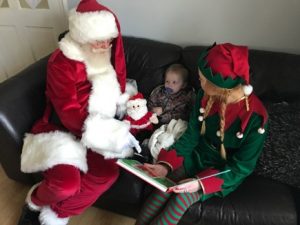 We have known Derek for several years and he didn't disappoint. We have always known Derek to be a passionate, caring and enthusiastic performer but underestimated his caring nature. Derek has connections in the Football industry and having heard that that Ethan and his family are die hard Sunderland fans could not resist the temptation to get in touch with the club.
Father Christmas turned up to Ethan's family home with a sack full of gifts organised by the amazing 'Promise Dreams' charity, but also a personalised Sunderland FC football signed by the boy's favourite players. This was an extra bonus and a huge surprise for the family. Derek even organised meeting the other character performers before the day, creating back stories and a short script for them to follow, which created an even better performance.
Throughout the day, Father Christmas, his Elves and Ethan and his brother played games, opened gifts, laughed, cried and shared an amazing Christmas together. It only goes to show how amazing a
Father Christmas can be to a child and how great 'Promise Dreams' and performers like Derek are.
Derek: "I was more than happy to be Santa to a very deserving family and more than happy to add my own gifts to the ones they already had. It was a moment that makes working hard worth it."
Sadly Ethan passed away on Christmas Day.