2021 Record Year for Professional Santa Performers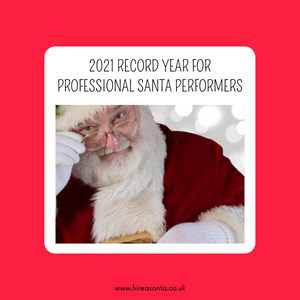 Demand for Santa exceeded all expectations in 2021 – and bookings are already flooding in for 2022.
One of the most popular of all activities was our special Santa for Learn Live sessions in which Santa undertook a live book read via Zoom to schools across the country. This year it involved over 1,000,000 children eagerly listening to Santa read some fascinating stories, capturing their attention from start to finish.
2021 proved to be a record season with high demand from garden centres, schools, nurseries, Greene King Pubs as well as high profile locations like the Polar Express, Chessington and John Lewis stores. And that's not including the countless homes and private parties attended by our Santas.
Although it left our Santas exhausted, they generated a lot of very happy customers among our 400+ clients.
We had some fantastic feedback for our Santa Performers
'You were amazing and the new volunteers who were unsure about the cost have said definitely a professional again next year!!!' Burfield
'Richard was amazing. With Richard arriving early, I was able to pass on the presents and Santa letters the boys had written. He was truly brilliant, engaging both children and adults with great skill and timing.
My eldest grandson had told his uncle who picked him up from school that there was no Santa, but when Santa arrived on his doorstep today, I think has changed his mind.
Richard showed the letters the boys had written and even before then was able to say what the boys had written and asked for. He greeted them by name and showed he knew their interests.
He was very receptive to the children and was great when the two eldest boys wanted to show their reading skills by reading the story book he had. He was really great letting them read, encouraging and complementing them. The time he spent with us was just right. He judged correctly when it was time to leave.
A really magical experience.' Sandie Hay
"Our Santa, Kevin, has been with us for the last two Sundays; he was brilliant! The kids loved him and he was the perfect Santa for our event.' Mulberry House
'I have received some wonderful feedback, photos and videos of our Santa Mark who came to our Christmas Celebration. He made the day very special and I heard nothing but good things about him! One family emailed me to let me know 'It really was probably one of the best Santa experiences mine have ever had and he was good with my friends two littlest ones who were a little apprehensive.' Family Liaison Officer, Harry's Rainbow
'Our Santa, Victor, was brilliant. He looks great, was very friendly and easily chatted to the little ones. Can't of asked for a better person – would specifically request Victor in future.' Lucy