Leaving Food out for Rudolph and his reindeer friends!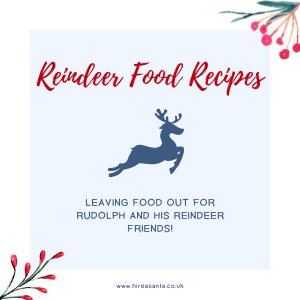 It's hungry work for reindeer pulling Santa's Sleigh. Just think how far they have to fly – and how heavy that sleigh packed full of presents will be. And it is not just one night, there is a lot of practice involved because they need to be really fit.
As a result, the months leading up to the Big Night are full of reindeer training. Holidays are over. They have to get fit, and make sure that they are strong enough to fly thousands of miles.
Santa and his elves have to help with that training by making sure they eat properly. Reindeer need regular meals, with lots of their favourite food to build up muscles. Santa makes sure that the reindeer food trays are kept well stocked and no one goes hungry. Reindeer cannot fly on empty tummies!
On the big night, all the reindeer have a good meal beforehand – not too close to actual flying time but close enough. Then it's time for the elves to fill that sleigh and harness up the reindeer in their flying order. Naturally Rudolph is always at the front. His red nose is essential in making sure they don't get lost, and that they visit every house on Santa's list.
It makes for a very long night – so naturally a few little treats along the way will help the reindeers stay happy and fit.
Don't forget to put some carrots and apples out for them. They love the nice crunchy taste, it makes a wonderful snack to eat en route. Sweet treats are also popular so you could make them something special.
Make your own Reindeer Food
Try combining some uncooked oatmeal with some colourful sprinkles. Mix it really thoroughly, then sprinkle it across your lawn. It will help guide the reindeer to your home – but don't forget to close your eyes and go to sleep first!