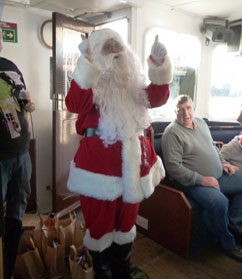 Hire A Father Christmas for a Home Visit or Private Party
Are you thinking about hiring a Santa for a party or to visit your children at home? Look no further, as we can provide you with a super magical experience in the privacy if your own home or venue and you can tailor your visit too!
What can I expect on a home visit?
When you book with us, you get the opportunity to provide us with a detailed brief of exactly what you require our Santa to do. With most of our chaps being trained actors they are very good at getting into the merry personality of Mr Claus and sticking to scripts that you have provided him with. Our Santa's are highly experienced so there won't be any disappointed faces when their sleigh pulls up at your house. Usually Santa calls out each child one by one and has a chat with them about what they would like for Christmas, they also love getting involved with party games!
Do you provide gifts for Santa to give out?
You will need to provide you own gifts for Santa to give out at your event, which means you can make the visit even more magical by having Santa give out gifts that the children might have wished for.
Will a suit be provided?
Of Course! When you book with us hire of the suit is also included, so you don't have to worry about finding one! All of the costumes that we provide are of the highest quality because we wouldn't want to tarnish Father Christmas' awesome fashion sense. We also provide costumes for elves if you want a little helper for Santa too.
Will I have to pay for travel expenses?
You don't need to worry about the location of your event either, we have excellent Santa's all over the United Kingdom. This means that you won't have to pay any additional charges for travel expenses as we always send someone local to your area.
To find out more about our Santa hire service give us a call on 0844 800 0071 or pop us an email with your requirements to info@hireasanta.co.uk