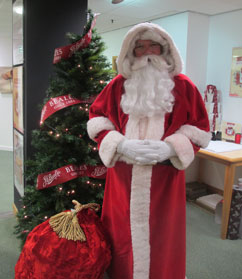 Hire a Father Christmas for Corporate Events & Office Parties
Don't think you're too old for a visit from Santa! Our Santa's love getting involved with office Christmas parties and corporate events that you might be planning. In previous years we have sent our fun Santa's to staff dinner events where they were required to read out who had been a bit naughty over the last year. There is loads of laughter guaranteed if you hire on of our fantastic Santa's, some people have even referred to them as 'Banter Claus'.
It is completely up to you what time to have your event, as our Santa's are happy to make a visit during the daytime or night time. We have provided staff for Christmas lunches, evening dinners and also parties at night.
They are also more than happy to get involved with any games or activities that you have planned. If you write out a script for Santa to follow when completing a booking with us, you can count on them to remember what to say and how to act as they're all experienced actors.
Hire other Christmas Characters
We can also provide sexy Santa's to be shot girls and hostesses for your event if you wish! We have an abundance of staff that are super fun and can create a great atmosphere. The models that we have on our books are extremely outgoing and will get everyone involved in the festive fun. We can provide both male and female models for your events, they get booked up very quickly though so don't hesitate to get in contact with us.
Get a quote for hiring a Santa
The best thing is, it doesn't matter if you have been naughty this year, you can still get a visit from Santa. To enquire about booking with us either send an email to info@envisagepromotions.co.uk or give us a call on 0844 800 0071.